Winfield High School
Class Of 1968
In Memory
Kris Halgedahl VIEW PROFILE
Kristin Halgedahl
AUGUST 28, 1950 – FEBRUARY 21, 2018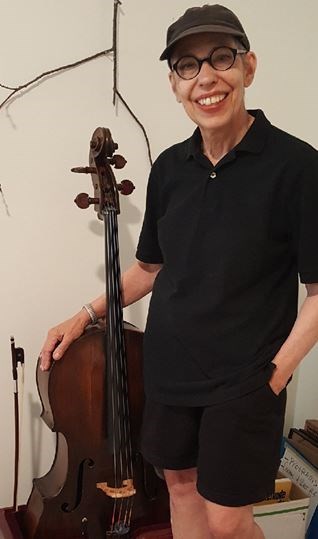 Kristin Halgedahl, writer, photographer, and cellist, whose work in area schools endeared her to many students in Traverse City, died unexpectedly in her home the week of February 11, 2018. Kris's Kansas upbringing was enriched by summers in Michigan, the result of her father's long association with the National Music Camp, Interlochen. The north woods touched her early on, and though she had chosen work environments in warmer climates for the bulk of her career, in 2013 she found herself driving east from northern California toward a new home in Michigan.
The cello was a vital part of Kristin's life from junior high school forward, and wherever she settled music was primary. She began her professional career as a jobbing cellist in Ontario, Canada, followed that by contributing her uniquely rich sound to the Tucson Symphony, and after moving to northern California enjoyed a long association with the Loveland Violin Shop, concomitantly subbing in several area orchestras and maintaining one of the wine county's most sought-after wedding quartets. Once in Traverse, Kris quickly established a private studio and began to work in the public schools as a consultant, later joining the staff at Marshall Music. In addition to her broad range of competencies, she possessed an unusual knack for fitting instruments to youngsters. Her humor, patience, and unique countenance all affirmed the sincerity with which she met each child. Never was a person more delighted to see a youngster's smile at the wonder of making that first sound. Kris was a cellist, yes, but an encouraging spirit first, last, and always.
Her energy for her other interests was substantial, leading first to a job on the staff of the University of Arizona's Writing Skills Improvement Program. There, for a decade, Kris helped minority students express themselves more clearly on paper: more efficiently, more effectively, and even creatively. Ultimately, she combined those skills with a keen eye for framing a photograph and her passion for local produce in her blog Four Eyes Forum (<foureyesforum.blogspot.com>), a celebration of good food, photography, and literature. The site continues (for the moment without updates) online, and provides a fitting legacy for her love of beauty in all forms.
The fruits of Kristin Halgedahl's life align themselves with that compass bearing held most closely in literature by the American transcendentalists. Thoreau was her favorite, and she often recited his famous line from Walden's second chapter: "I went to the woods because I wished to live deliberately, to front only the essential facts of life and see if I could not learn what it had to teach, and not, when I came to die, discover that I had not lived." Kris found her Walden in northern Michigan. She'd always known it was there. Her move to the woods was as rational and profound as Thoreau's journey on Walden pond, and for the last five years of her life she lived "deliberately."
A celebration of Kristin's life will be held in the Traverse area this summer. Details will be published as they emerge. Plans are being made for a memorial fund in her name, as well. She is survived by her brother Frederick Halgedahl, of Reinbeck, IA.
http://www.legacy.com/obituaries/name/kristin-halgedahl-obituary?pid=188261962
Click here to see Kris' last Profile entry.